Hi there!
We are Walker Farms. Walker Farms, LLC is a small regenerative family farm located in Princeton, MN.
Our mission is to provide our local community with high quality regenerative products while restoring the environment.
We serve families across Minnesota, and are looking beyond our state borders by 2024 with shipping!
Meet the Team
Walker Farms is a small regenerative family farm. We currently have three generations working to raise quality animal protein products for our local community.
CEO
George Walker
George is the eldest brother of three Walker children. George is passionate about regenerative agriculture and ruminant management. He is an avid learner and sharing his knowledge and experiences with others. George is responsible for day-to-day care and management of the beef, sheep, and poultry on our farm.
CFO
Andy Walker
Andy is the youngest of the three Walker children. He returned to Minnesota with his wife, Becky, in 2012. They started raising pastured poultry adding pastured pork shortly thereafter. Andy is passionate about designing and building new things for our livestock. He is responsible for the pasture raised pork on our operation.
Marketing & Customer Service
Anneliese Walker
George's wife, Anneliese (also known as "Liese") is our Marketing and Customer Service Lead. She is passionate about sharing our story, supporting our customers, and advocating for more resilient food economies.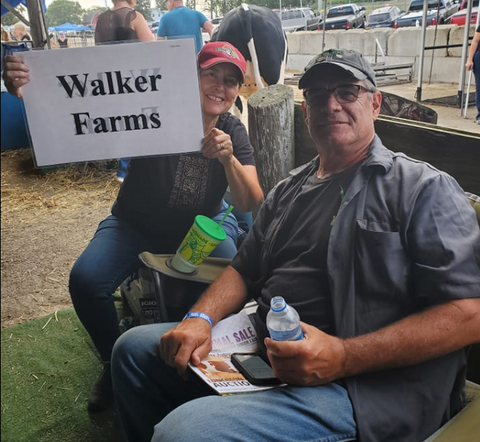 Tammie & George
"Big" George and Tammie spent their first 17 years together raising the kids and farming. For the rest of their careers they taught English in Princeton, Coon Rapids, Qatar, Fergus Falls and finally in Maple Lake at the Jane Goodall Environmental Sciences Academy.  In August of 2022 they decided to retire from education and become more involved in Walker Farms.
Our Story
Walker Farms originally began in 1980 under the loving care of Tammie and George C. They raised pigs, vegetables, conventional crops, and three amazing children; George G., Karen, and Andy. They persevered through the market crashes, drought, and economic changes for many years. They decided to shutter the farm in the early 2000's and pivot to education where they could help grow young minds both here and abroad.
George G. began farming on is own in Wisconsin, following in his parents footsteps. His passion for sustainability led him to farming with draft horses, raising grass-fed beef, pastured poultry and pork all while building a career as a farrier.
While Tammie and George C. were away in Qatar teaching English, Andy returned to the farm along with his wife Becky (2012). After reading about pasture-based production systems, they began raising pastured poultry, then pork, and started to develop the Walker Farms you see today.
In 2017, Andy and George decided farm together, formally forming Walker Farms, LLC.
Walker Farms: A History
The year is 1980 and a very young George and Tammie Walker, along with 8 other families, were given the opportunity to prove that a family could still make a living on 80-120 acres of marginal soil if they were diversified, worked hard and had access to information. Information that William C. Noris, the CEO of Control Data Corporation would provide from a locally housed cubicles of computers at Rural Ventures, a Princeton business. Mind you, that this was 1980. The internet was yet to be. The push from small farms to big farms was well under way. 
It was during this time that we raised our children, George, Karen and Andrew (Andy). The kids joined us in the fields and in the barns. Hot Wheels provided entertainment during daily feedings and barn washings as they rode those three wheeled bikes around and around till the wheels busted off. Those days It was not unusual to see toy farm equipment in a pile of feed along with mud pies and shouts of content. Then again, the kids would join their dad at the sales barn for the weekly feeder pig auction. With the help of our parents these were good times, but also, difficult. 
In 1997 It became sadly apparent when the price of feeder pigs sank to depression era prices and the price of corn, to feed them, went to $5.00 a bushel that things would need to change. So when George G was 17 we made the difficult decision to quit farming. For the following 25 years we managed to become licensed teachers teaching in Princeton, Northwest Passage, Fergus Falls, Qatar, and finally at the Jane Goodall Environmental Science Academy, retiring in 2022.
Fast forward to 2023. George and Tammie have aged, The other 8 families have moved on, and the remaining farm is 23 acres. One nugget of Mr. Noris's vision has definitely come to fruition.  Information is just a click away. 
In 2014 Andy & Becky converted an old camper trailer as a chicken coop with the dream of adding livestock. Whereas, George was selling poultry, pork and beef in a meat CSA back in Wisconsin. 
As things turned out, George moved back to Princeton and Walker Farms became a thing. Branching out in the "Direct to Consumer" business. Anneliesa joined the fun in 2017 and has become our go-to marketing guru. Covid pushed the business to a new level as it became apparent that locally sourced food delivered to your doorstep was a thing. 
Once again, just how we grow is something we struggle with. Can we make a living on a small farm that is diversified? What is crazy about Walker Farms is that Mr Nori's vision is being realized through what the kids are trying to accomplish. We no longer run 165 acres but the kids lease 100 acres from neighbors. You can once again hear the sounds of children laughing as Cohen and Daphne get into mischief making us wonder how we will ever manage to get all the work done. 
Today with the push for local regenerative farming and easy access to information Mr Nori's  vision is happening. I believe that his vision is the quickest and most nobel way to heal our world and our communities. The push from "Big Farms" to "Smaller Farms" might be underway. Taking care of our communities and the soil is the answer. 
Remember to "Know Your Farmer."
Tammie